Sinking & Settling Concrete Floor Slab Repair in Greater Green Bay
Causes & repair solutions for cracked, sinking concrete floors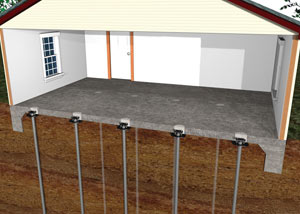 Concrete slab piers can extend deep below the floor to reach competent supporting soils and permanently stabilize the floor.
Do you have a concrete slab floor showing signs of sinking, sagging, or settling? Are the walls separating from the floor below or the ceiling above?
If you have a problem like this in your home, you could have a sinking or settling concrete floor slab. This problem can lead to cracks in floors and walls, uneven surfaces, and a weakened foundation.
Luckily, the foundation repair experts at Sure-Dry can help you solve this problem permanently! We provide complete foundation repair solutions in Green Bay, Appleton, Oshkosh and nearby areas in Wisconsin. Call us today to get a free estimate.
Signs of slab settlement
When a floor slab settles, the damage can manifest in many ways. Along with cracks in the concrete, the floors can separate from the walls as they sink downwards. Alternatively, the interior wall may be pulled down with the floor instead of separating from the ceiling. Walls can also pull away from other walls, and interior wall cracks can form -- commonly off the corners of interior doors.
(Click each photo to enlarge.)








What causes a concrete floor slab to settle?
When a concrete floor settles, it can mean severe damage to your home. The causes of floor slab settlement are almost always due to the soils underneath being unable to support the weight of the concrete. They often accompany other foundation problems in your home.
The three most common causes of settling concrete floor slabs are as follows:
(Click for more information.)
| | | |
| --- | --- | --- |
| Drying/Shrinking Of Soils Under The Slab | Washout Of Soil Underneath The Slab | Poor Compaction Of Foundation Fill Soils |
Ways to repair floor cracks
Foundation Supportworks dealers have many tools to reverse concrete slab settlement and restore the condition of concrete floors. Here are the many ways Sure-Dry might choose to resolve your floor crack:
PolyLevel: PolyLevel's primary application is to lift concrete slabs in a long-lasting, minimally disruptive method, and PolyLevel is highly effective at getting rid of cracks in the floor. PolyLevel is the most popular choice for this type of problem.
Push piers: Push piers reach greater depths than any other type of solution, which can sometimes help restore concrete slabs and eliminate cracks in the process.
Helical piers: Helical piers are suitable for both light and heavy loads, making them appropriate for concrete slab settlement and floor crack repair.
Slab piers: Occasionally, it might be prudent to use concrete slab piers and brackets to transfer the slab's weight to load-bearing soil and lift and level the concrete.
Looking for foundation slab repair contractors In WI?
At Sure-Dry, we provide proven solutions for concrete slab floor leveling and other foundation repair solutions to homeowners throughout Wisconsin. We give each customer a free, no-obligation slab repair quote in writing before any work is done. To schedule your appointment, call or e-mail us today!
We proudly offer all our foundation repair services in Green Bay, Appleton, Oshkosh, Sheboygan, Fond Du Lac, Wausau, Manitowoc, Neenah, Stevens Point, Wisconsin Rapids, and surrounding areas.
Looking for a price? Get a no cost, no obligation free estimate.