Spring Tip:
Clean Your Gutters and Maintain Your Downspouts to Prevent Water In Your Basement
Many homeowners don't realize the impact that their gutters can have on their basement. When your gutters aren't draining properly, they can overflow or dispense water against the foundation walls, contributing to basement leaks. We provide three different gutter downspout extension options to ensure that your home has gutters that are directing water away from the foundation. The length in which you should direct the water from your downspouts away from your foundation depends on the slope of your home. Most commonly, eight feet should do the trick. In most cases, using downspout extensions and troughs is necessary to achieve this distance.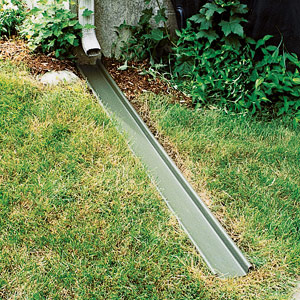 While cleaning your gutters and maintaining your downspouts can be a bit of an annoyance, it's a relatively simple and inexpensive task that can prevent more serious problems in the future.
For a free estimate on the different downspout extension options Sure-Dry Basement Systems can provide your home, call (920) SURE-DRY or (715) SURE-DRY today for a free estimate!